How to Apply Hair Color?
If you want to cover your gray, or go a couple shades lighter or darker, then home hair color is for you. If you want anything more dramatic, then it's best to go to the salon. Also, if you hair is damaged or chemically treated, stick with a professional to be sure you don't over process and damage your hair.
.
Step 1:
Wash your hair 24 to 48 hours before dyeing. Doing this allows the natural oils in your hair to develop which in turn allows dye to bind to your hair more easily. The dye will blend more naturally with your hair and tends to last longer.
If possible, avoid conditioner when you wash your hair the day before dyeing it. Conditioner eliminates your natural oils, which you need for the dye to set in more easily.
Step 2:
Brush. Brush your hair thoroughly to remove all tangles that might make your color look strange.
Step 3:
Read instructions leaflet. Read every bit of the instructions leaflet that comes along with the Italiano hair colour and make sure you understand what you need to do before you proceed.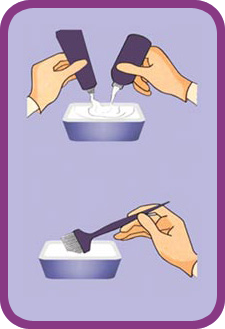 Step 4:
Put on your gloves. Gloves are included in Italiano Hair Color Cream Pack. Wearing gloves allows you to dye your hair without dyeing your hands.
Coat your hairline, ears and neck before applying dye to your hair. You can use or lip. Applying this coating will make it easier to rinse off the dye that gets on your skin.




Step 5:
Prepare the color. Mix the hair color cream and developer according to the directions on the pack. Free developer is inside the pack. Mix your dye in a bowl with a brush.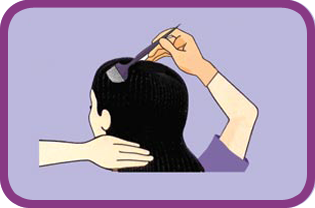 Step 6:
Use a comb to separate your dry hair into four major sections, sideways from ear to ear, and vertically from forehead to the nape of the neck. Begin by taking a smaller subsection from one of the sections and applying Italiano hair colour from the bowl. Don't use too big of a section, you want to make sure the colour is thoroughly worked through your hair.
Start with the roots and work your way down and outward, piling your hair on the top of your head as you go. You can use a hair clip or multiple clips to pin your hair up.
Step 7:
Wipe excess dye off of your neck and forehead with a paper towel or wet cloth. Do not disturb the dye in your hair. You can put a shower cap on your hair to keep the dye from going everywhere.
Step 8:
Wait until the process time is up. Make sure to follow the directions exactly. If you have a lot of grey hair, its best to leave the dye in for the maximum amount of time.
Do not leave the dye in overnight. Leaving it in overnight will dry out your hair. The way hair dye works is that it opens the scales of your hair to inlay the pigments. If you leave the hair dye on too long, it will just open the scales more than necessary without depositing any more color, thus making your hair extra dry.
Either get into the shower or use a sink to rinse your hair out. Use cool water to rinse your head at first. Rinse completely until the water you are rinsing with runs clear.
Step 9:
Wash out and dry. Wash out the excess color thoroughly, until the water runs clear. Use the conditioner and shampoo which is color-protecting. Allow your hair to dry naturally instead of blow-drying. It will retain more shine that way.
Avoid exposing your newly dyed hair to extended time in the sun for at least a day. UV rays can interfere with freshly applied hair dye.